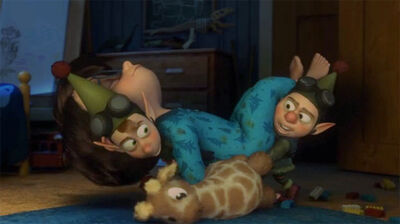 SPOILER:
Plot details or story follow.
It is young Timmy Terwelp who surprises a reclining Wayne as he lounges in the living room of the boy's residence, eating a cookie meant for Santa and giving his new partner Lanny all the Christmas Eve Prep duties. Timmy takes several pictures of the elves (which are subsequently deleted) before being sparkled and carried back to his bed. After the delay in the Prep of Timmy's house causes Magee to declare a "Figgy Pudding" (meaning Timmy's house must be skipped by the "Big Guy" that year), Wayne regains his enthusiasm for his job and works together with Lanny to try to bring Santa in during the raging snowstorm.
Ad blocker interference detected!
Wikia is a free-to-use site that makes money from advertising. We have a modified experience for viewers using ad blockers

Wikia is not accessible if you've made further modifications. Remove the custom ad blocker rule(s) and the page will load as expected.