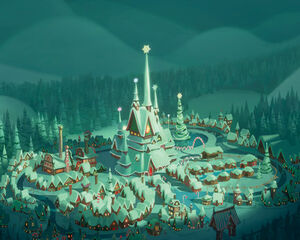 The legendary North Pole is home to Mr. and Mrs. Claus, as well as all of Santa's elves and reindeer. The store-filled Candy Cane Lane leads to the centerpiece of the North Pole, Santa's Lodge, where the Big Guy lives and works. The four main quadrants surrounding the lodge include Toyland, Caribou Quarter, Holly Jolly Park, and Elfville, which was once voted "best (and only) place to live in the North Pole" by Good Elfkeeping Magazine.
Ad blocker interference detected!
Wikia is a free-to-use site that makes money from advertising. We have a modified experience for viewers using ad blockers

Wikia is not accessible if you've made further modifications. Remove the custom ad blocker rule(s) and the page will load as expected.