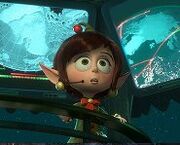 Kidzworld sat down to talk to
Sarah Chalke
about her new CG-animated movie,
Prep and Landing
, and the very special arrival she's expecting on Christmas Day.
Watch this fantastic Holiday special, December 8th on ABC!
Sarah Chalke voices Magee, a no-nonsense elf who is head of the North Pole Christmas Eve Command Center. Magee spends 364 days a year working to ensure Santa's gifts are delivered to the right house on time. She and her elite team of elves prep the houses before Santa even arrives—hers is a behind the scenes kind of job that requires a certain kind of elf to pull it off. Sarah describes Magee as a "perfectionist [who's] high-strung and super into her job." How does Magee get through those tougher days? "She talks really fast and chugs egg nog lattes to stay awake," Sarah admits, laughing.
Christmas TV Tradition
Edit
Sarah says: "To be part of a Christmas special was really fun because I remembered so much that as a kid growing up, you sit down altogether with your family and watch A Charlie Brown Christmas. Those [Christmas specials] really stick out in my mind as strong Christmas memories, so get to be a part of that is really cool." Prep and Landing was executive produced by John Lasseter, one of the big names behind Pixar, so with that kind of pedigree there's a good chance Magee and crew will be around for many more Christmas' to come.
Special Delivery
Edit
Sarah is expecting her first child, a son, on Christmas Day! "When I started recording [the voice for Prep and Landing], I wasn't even pregnant, so it's fun to get to do something that will effect your kids." Is Sarah as prepared for Christmas as Magee? "I only have a month left, so it's kind of crazy," Sarah admits. "We have a couple names [picked out], but I don't think we have it yet. We've got to meet him first!"
http://www.kidzworld.com/article/21836-sarah-chalke-prep-and-landing-interview#