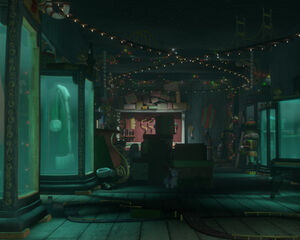 Hidden beneath Santa's Office lies his secret workshop. Here, the Big Guy finds peace and quiet for his creative endeavors. The workshop also serves as a mini Christmas museum, housing some of Santa's old suits, sleighs, and other various treasures. Mrs. Claus is just happy to have all the stuff out of her house.
Ad blocker interference detected!
Wikia is a free-to-use site that makes money from advertising. We have a modified experience for viewers using ad blockers

Wikia is not accessible if you've made further modifications. Remove the custom ad blocker rule(s) and the page will load as expected.