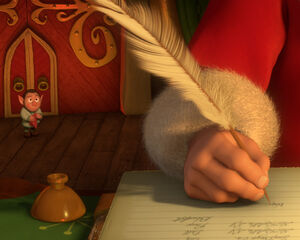 Nestled deep within Santa's Lodge, this quiet, secure retreat serves as the Big Guy's private sanctuary. Miss Holly, Santa's Executive Assistant, maintains all schedules and appointments from her desk just outside the office. In this personal workspace, the Big Guy is able to sketch out new toy design concepts and also catch his daily afternoon nap.
Ad blocker interference detected!
Wikia is a free-to-use site that makes money from advertising. We have a modified experience for viewers using ad blockers

Wikia is not accessible if you've made further modifications. Remove the custom ad blocker rule(s) and the page will load as expected.