Product Details: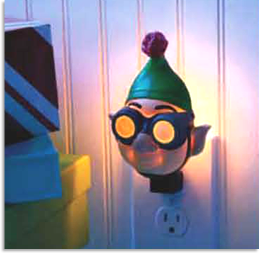 Your Mission: Light up the holidays with this official Prep & Landing Night-Light. Wayne's glowing goggles and elfish grin will remind you to stay alert at all times, ready to assist at a moment's notice. With your help, Operation Christmas is sure to be totally tinsel!
Size: 3 3/8" x 6 1/4" x 3 3/8"
Ad blocker interference detected!
Wikia is a free-to-use site that makes money from advertising. We have a modified experience for viewers using ad blockers

Wikia is not accessible if you've made further modifications. Remove the custom ad blocker rule(s) and the page will load as expected.