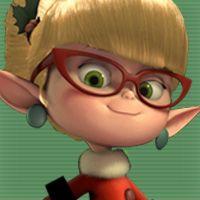 Miss Holly is the current Executive Assistant to the Big Guy. She started as a clerk in the North Pole Post Office, and then worked as Junior Assistant under Mrs. Tannenbaum, Santa's former Executive Assistant. When Mrs. Tannenbaum retired, Miss Holly assumed the role.
Likes: Miss Holly likes the new calendar software update for her data pad, which allows her to schedule meetings up to thirty years in advance.
Miss Holly loves her subscription to L'Elf Fashion Magazine, and harbors dreams of one day being the editor in chief.
Dislikes: Although seemingly unapproachable due to her fashionable appearance and strict demeanor, Miss Holly longs for a more active social life, hopeful that someone will ask her to this years Christmas party.
Random Fact: Miss Holly always finds herself in need of a fresh mug of egg nog every Thursday at 10:30. Coincidentally, that is the same time that Brett, the rugged Fun Nog cooler service elf, is delivering a fresh supply on his broad shoulders. Miss Holly's mother thinks she can do better.