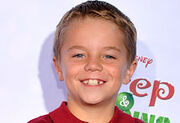 Mason Vale Cotton
(born 25 June, 2002) is a young American actor. Cotton was born in San Diego. He portrays Maynard "M.J." Delfino on the television series Desperate Housewives. He has also been in episodes of the television series Medium and ER, as well as the films A Dennis the Menace Christmas and Radio Free Abemuth. He provides the voice of Timmy Terwelp in Prep & Landing.
Ad blocker interference detected!
Wikia is a free-to-use site that makes money from advertising. We have a modified experience for viewers using ad blockers

Wikia is not accessible if you've made further modifications. Remove the custom ad blocker rule(s) and the page will load as expected.