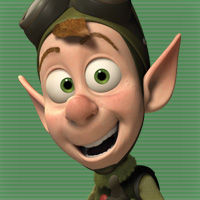 Lanny is a rookie on Prep & Landing. He recently completed his training and graduated at the top of his class at Kringle Academy, achieving record marks in Holiday History and Christmas Cheer. During his education there, Lanny was also the falsetto member of the Caroling Club, head of the Yuletide Yearbook Committee, and chief statistician for the Curling Team.
Lanny spent many years as a Snow Globe checker on the Toy Factory line, all the while dreaming of the day he would be accepted into Kringle Academy. Lanny's poster of his Prep & Landing hero Wayne and routine visits to the Hall of Holiday Heroes kept Lanny motivated to achieve his goal.
Lanny comes from a large family who provide constant encouragement, particularly his mother. She sends Lanny weekly care packages of fruitcakes, candy canes, and vegetarian beef jerky.
Likes: Lanny loves the apricot fruitcake at the Fruitcake Factory. He often joins his Kringle Academy friends Wendy and Vicky for the popular "Fruitcake Factory Friday Food Fests".
Dislikes: Lanny has few dislikes, although he is occasionally defensive when his cranky grandpa often comments that he is "ganglier than a newborn reindeer".
Random Fact: Lanny has an extensive collection of Christmas sweaters. His favorites have festive kitten designs. Lanny also plans on starting a new collection of tree shavings from each Prep & Landing mission as a reminder of how special his new job is.
Ad blocker interference detected!
Wikia is a free-to-use site that makes money from advertising. We have a modified experience for viewers using ad blockers

Wikia is not accessible if you've made further modifications. Remove the custom ad blocker rule(s) and the page will load as expected.