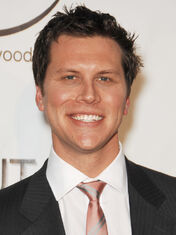 Hayes MacArthur
(born 16 April, 1977) is an American stand-up comedian, actor and writer. In 2005, MacArthur co-wrote, produced and starred in a 16-minute short film, The Adventures of Big Handsome Guy and His Little Friend, with Jason Winer. He also appeared as a waiter in the episode of Curb Your Enthusiasm and also in the Disney movie The Game Plan. Along with recurring roles on the television shows How I Met Your Mother and Worst Week, he appeared in supporting roles in the 2010 films She's Out of My League and Life as We Know It. He provides the voice of Thrasher in Prep & Landing and Prep & Landing: Naughty vs.Nice.
Ad blocker interference detected!
Wikia is a free-to-use site that makes money from advertising. We have a modified experience for viewers using ad blockers

Wikia is not accessible if you've made further modifications. Remove the custom ad blocker rule(s) and the page will load as expected.