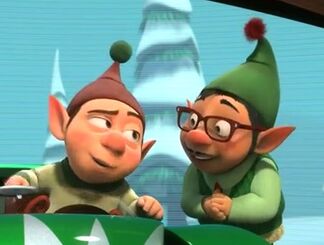 If you call
Gene
a "born salesman" you wouldn't be too far off the mark. As soon as he could walk and talk, he was wheeling and dealing. His classmates at Elfville Elementary recall his shrewd negotiating skills during lunchtime sandwich trading. Before opening
Sorenson's Snowmobile Emporium
188 years ago, Gene sold refrigerators and air conditioning units. According to Gene, he comes from a long line of salesmen. As he is delighted to explain, his great-great-great-great grandfather was the one to sell
the North Pole
site to
Santa
himself. To this Santa simply replies, "Ho Ho Ho!" but won't say any more about it.
Likes: Those three little words that every salesman loves to hear: "I'll take it!"
Dislikes: Those five little words every salesman hates to hear: "Let me think about it..."
Random fact: Gene loves to go home, change into his PJs and slippers and watch "Deal or No Deal"
Ad blocker interference detected!
Wikia is a free-to-use site that makes money from advertising. We have a modified experience for viewers using ad blockers

Wikia is not accessible if you've made further modifications. Remove the custom ad blocker rule(s) and the page will load as expected.