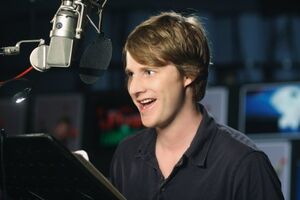 Derek Richardson (born January 18, 1976) is an American actor. He was born in Queensbury, New York. He attended Colorado College from 1994 to 1998. He began his career with guest roles on Law and Order and Strangers with Candy. After moving to Los Angeles in 2002, he was cast in a recurring role on Felicity. He subsequently co-starred in the Dumb and Dumber prequel, Dumb and Dumberer: When Harold Met Lloyd as a younger version of Jeff Daniel's character. In 2005, he co-starred in the horror movie Hostel, and In 2006 he began starring in the television show Men in Trees as Patrick Bachelor. He provides the voice of Lanny in Prep & Landing and subsequent films.
Ad blocker interference detected!
Wikia is a free-to-use site that makes money from advertising. We have a modified experience for viewers using ad blockers

Wikia is not accessible if you've made further modifications. Remove the custom ad blocker rule(s) and the page will load as expected.