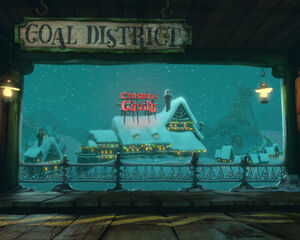 Lying on the outskirts of the North Pole, this snowy suburb is the number one producer and distributor of Christmas stocking coal, a mining process overseen and managed by the infamous Coal Elf Brigade. The district is also known for its favored local hotspot, Christmas Carol's. If you like soot, the Coal District is for you!
Ad blocker interference detected!
Wikia is a free-to-use site that makes money from advertising. We have a modified experience for viewers using ad blockers

Wikia is not accessible if you've made further modifications. Remove the custom ad blocker rule(s) and the page will load as expected.