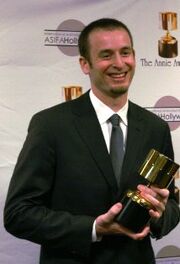 Chris Williams
(born in 1971) is an American film director, screenwriter and animator at Walt Disney Animation Studios. He is well known for have directing Glago's Guest and Bolt. Chris previously worked in the story department for Mulan, The Emperor's New Groove, Brother Bear and Bolt in which he later directed replacing Chris Sanders as director. He is the originator of Prep & Landing.
Ad blocker interference detected!
Wikia is a free-to-use site that makes money from advertising. We have a modified experience for viewers using ad blockers

Wikia is not accessible if you've made further modifications. Remove the custom ad blocker rule(s) and the page will load as expected.