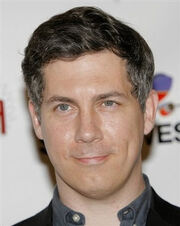 Thomas Christopher
"Chris" Parnell (born 5 February, 1967) is an American comic actor best known as a cast member on Saturday Night Live from 1998–2006 and for his role as Dr. Leo Spaceman on NBC's comedy series 30 Rock. Parnell currently voices Cyril Figgis on the FX animated comedy Archer and appears with a recurring role on the ABC sitcom Suburgatory. Hios extensive film work includes Walk Hard: The Dewey Cox Story, Anchorman: The Legend of Ron Burgundy, Evil Alien Conquerors, The Ladies Man and Jingle All the Way. He provides the voice of Mr. Thistleton in Prep & Landing: Naughty vs Nice.
Ad blocker interference detected!
Wikia is a free-to-use site that makes money from advertising. We have a modified experience for viewers using ad blockers

Wikia is not accessible if you've made further modifications. Remove the custom ad blocker rule(s) and the page will load as expected.