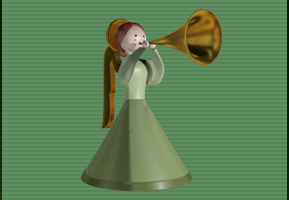 At first glance, the Angel Air Gun appears to be a small tree topper angel. In reality, the angel is a compressed air canister, used to fluff stockings and ensure they are hung with care. The angel's halo is the button to release the compressed air, which shoots out from the trumpet.
The Angel Air Gun can also be used as a shredder. Items can be dropped into the base of the angel, and the shredded remains will shoot out from the trumpet end.
Ad blocker interference detected!
Wikia is a free-to-use site that makes money from advertising. We have a modified experience for viewers using ad blockers

Wikia is not accessible if you've made further modifications. Remove the custom ad blocker rule(s) and the page will load as expected.